The Selby
We came across the Selby by accident. Once again we were visiting the late Doug Connell in Kenilworth, this time with some more members of the Forest of Dean Historic Vehicle Club, namely Brian & Ruth Cozens, who were looking to possibly purchase a classic car.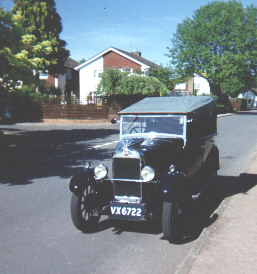 Meanwhile Sheila & I were having a nose round Doug's various sheds when we saw this Standard Tourer tucked away in a corner. Not recognising the model we asked Doug who told us it was a 1930 Selby Tourer, and was already sold.
Perhaps at this stage I should explain just what is a Selby Tourer. It is a model of the 9H.P. car introduced in September 1927 of which two prototypes, a fabric bodied saloon and a open four seat tourer, completed 18,000 miles in one month, on what became known as the "Birdlip Run".(see Flying 8 page). The cars were available in two specifications, short wheelbase with 1155cc engine, and long wheelbase with 1287cc engine, the "Big 9". These were the last cars to feature the distinctive shouldered radiators.
Our car is a 1930 Selby Tourer first registered on 2nd March 1930, being one of the last of this range of cars to be built.
Now back to how we came to own this car. About a month after first seeing the car, we were back a Doug Connell's and hey presto, there still in the same corner, was the Selby. More discussion with Doug and 3 days later it was ours!
We know nothing of the car's history prior to 1960/61 when it was restored by Messrs E.Foulds, motor engineers of Keighley Yorkshire. The car was then sold to the Peter Black Collection also in Keighley in February 1967, and then "disappeared" until July 1995, when it was offered for sale by Smallbone & Sons of Birmingham. We purchased it on 30 May 1998. Since then it has been used quite regularly throughout the summer months for both day trips and the annual weekend get-together with the Standard Register.
Over the years we have discovered that "Selby's" are rather rare beasts, until quite recently there were only two example known to exist worldwide. However a third one surfaced at the auction at Beaulieu last year having been " lost" for over 20 years. This is an earlier model than ours, being first registered in 1929. So now there are 3!!